Cloud Hosting
Simplify Your Infrastructure using Our Complete Cloud Services.
Natel - Web Design Company Cloud hosting services are delivered from a cluster of network connected web servers.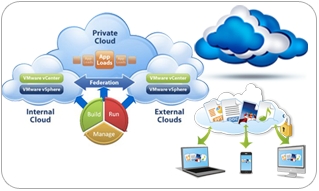 Cloud computing technology has eased out the process of individual installation of applications and is more efficient with one of its prime features being scalability in the form of Memory, CPU and Bandwidth allocation besides also acting as a centralized storage.

Our Cloud Computing solutions reduce the overhead cost of server hardware and other applications, and are suitable for companies that are looking forward to cut their costs. In short, Cloud hosting servers that can also be defined as fully redundant and multi-server systems which are easily scalable and can be virtualized on demand.

eNlight Cloud servers at Natel - Web Design Company is one of the various Cloud Computing solutions that we offer. eNlight is an advanced cloud computing technology that involves provisioning of dynamically auto scalable resources like CPU and RAM in a virtualized server environment over the Internet. With its intelligent design, eNlight is able to calculate the need for additional resources to a virtual server and the need to withdraw them as and when required, therefore providing a truly scalable environment.

With eNlight Cloud servers; resources allocation, scalability and server upgrade/ downgrade cycles are no longer a worry as eNlight takes care of these seamlessly and adjusts resources in real time, without the need of a server reboot.

With resources dynamically allocated as per the server load, eNlight's intelligent Auto-Scaling technology knows when to allocate and de-allocate resources to a virtual machine. You can deploy any number of virtual machines or remove them after use.

Cloud Servers - Virtual Machines (VMs)
Built on VMware's vSphere 4.0 Hypervisor, Cloud Servers are highly configurable, secure, virtual machines that provide granular control and allow easy customization.

Our secure virtual machines are hosted on physical servers in the OpSource enterprise-class public cloud and are built on the best-of-class infrastructures from Cisco, EMC, and Dell.

Natel - Web Design Company Cloud Servers support Microsoft Windows, Red Hat Enterprise Linux, Ubuntu and CentOS operating systems and can be deployed and managed either through the administrative UI or through corresponding functions of the Open API.
Key Features :
Data secured at rest (256-bit encryption) and in-flight (128-bit SSL encryption).
Create multiple storage accounts, each with its own administrative password, allowing the creation of isolated file stores.
Ability to set storage quotas and control sub-administrator access on a per-account basis.
Each account can be configured to store up to 10TB of data.
Cloud Networks - Private Layer 2 VLANs
Cloud Networks are Layer 2 private networks built on Cisco switching fabric providing unparalleled security and performance for your environment.

Key Features :

Customize ACL-based firewall rules.
Set your own NAT and VIP rules to expose your private IP addresses to the public Internet.
Set load-balancing and port translation across multiple virtual servers, with the ability to take servers in and out of service manually, programmatically or based on monitoring probes.
Implement clustered architectures with Multicasting.

Creative Web Services

natel is one of the leading Web Development and Web Design Company in Chennai India.
Application Development

Our team has excellent capabilities in LAMP (PHP / MYSQL) and ASP.NET / SQL
Web Hosting Services

Natel company has been growing at a tremendous pace with clear focus on its customer

Website Design natel is one of the leading full service website design company chennai.

Mobile Development Our mobile developers are experience because we are in mobile application

Search Engine Optimization natel - SEO Company in Chennai is one of the most effective ways .

Web Hosting natel has been growing at a tremendous pace with clear focus.