Content Management System
We Develop CMS Based On Your Needs.
Siva Shree Info Systems - Web Design Company offering CMS services to its clients keeping in view the shortcomings in traditional web development that hinders quick maintenance of your website.

This is exasperating when clients cannot even make a small change and have to wait for days for maintenance. The aim of our company is to increase the effectiveness of its client's website and give them the control necessary for website mainteance.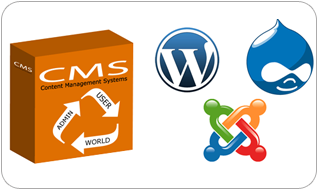 We has best open source CMS development team that delivers such CMS solutions facilitating the clients to perform any update on content effortlessly. Our team is skilled in the following CMS platforms.


Joomla :
Our proficient Joomla experts, with great knowledge and expertise are able to develop Joomla components, modules and plugins according to client's requirements. Services we offer in Joomla development range from simple to complex applications.

Wordpress :
Our developers are capable of providing clients with complete wordpress solutions.They have extensive expertise in wordpress customization and implementation and years of experience in component, module and plugin development.

Drupal :
Our specialized and dedicated team in drupal development offer clients with customized drupal based dynamic web applications. We offer module customization, drupal optimization and maintenance.

Creative Web Services

natel is one of the leading Web Development and Web Design Company in Chennai India.
Application Development

Our team has excellent capabilities in LAMP (PHP / MYSQL) and ASP.NET / SQL
Web Hosting Services

Natel company has been growing at a tremendous pace with clear focus on its customer

Website Design natel is one of the leading full service website design company chennai.

Mobile Development Our mobile developers are experience because we are in mobile application

Search Engine Optimization natel - SEO Company in Chennai is one of the most effective ways .

Web Hosting natel has been growing at a tremendous pace with clear focus.