Dedicated Server
All New Managed Deticated Servers.
Dedicated servers host only your website. This means that all of the space and bandwidth on the server is yours and yours alone. You do not have to share hosting with other businesses.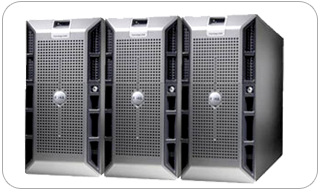 You can generally make your website as large as you want and include databases such as shopping carts as well as forums, that normally take up quite a bit of space. This also means that you have total control over the safety of your server and your website. You can add additional features that can make your site even more secure, to the benefit of both your customers as well as yourself. Dedicated servers usually cost a lot more each month to maintain, but there are different sizes as well as services available for this type of web hosting. When perusing the different options when it comes to dedicated servers online, you can generally find everything from larger servers to budget dedicated servers.

Most of the websites host on 2 important servers, Linux Dedicated Server which supports PHP, Mysql and Windows Dedicated Server which supports ASP.Net, ASP, PHP, MSSQL, Mysql technologies for your personal or business website programming needs.
Linux dedicated servers
Worldwide Linux dedicated servers are one of the most popular choices among shared web hosting companies. With great automation software for the web hosting dedicated servers true automation makes running a web hosting business a breeze. Linux web hosting dedicated server supports both cPanel or Plesk. Most of the web hosting companies choose linux dedicated server hosting to provide shared hosting to their clients. Server providers offering Cpanel with WHM to create web hosting accounts for their customers. Linux dedicated hosting also good for websites that offer large data in various modes. For ex: social networking sites, Customer profile sites, membership based sites and so on....

Windows Dedicated Server
The Windows Dedicated Severs / NT plans are ideal entry level web hosting solutions. Windows Dedicated Hosting offers high end enterprise power along with small business affordability. You are assured of superior performance, control and reliability even with most affordable windows hosting plans available for customers who need to host Windows-based applications.

Creative Web Services

natel is one of the leading Web Development and Web Design Company in Chennai India.
Application Development

Our team has excellent capabilities in LAMP (PHP / MYSQL) and ASP.NET / SQL
Web Hosting Services

Natel company has been growing at a tremendous pace with clear focus on its customer

Website Design natel is one of the leading full service website design company chennai.

Mobile Development Our mobile developers are experience because we are in mobile application

Search Engine Optimization natel - SEO Company in Chennai is one of the most effective ways .

Web Hosting natel has been growing at a tremendous pace with clear focus.