Our Team
Super People With Superior Experience.
Our totally professional and hugely talented team of individuals who make up Siva Shree Info Systems - Web Design Company, immerse themselves in each project to such an extent, that the clients business becomes our business throughout the contract period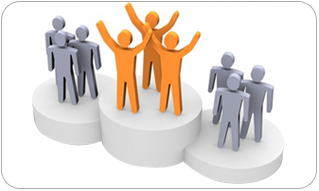 in so much that nothing but a quality end product is deemed acceptable as would be the case were it to be our own and in so doing, the desired outcome is inevitably achieved.

The thing is that we are trying to assign roles to each one of us so we can be focused on our duties and have clear our responsibilities within the team. We are a crew of four people, three of us are business people who would do the marketing, customer relationship, management and accounting stuff and I'm basically the developer. I have in mind to get them involved into the development process by giving them documentation to write and use them as testers, all of that besides the management duties they have.

The expertise we hold in hand coding is something we take great pride in, as is the Content Management System (CMS), which we promote for, clients to self edit. Consultation with the customer is high on our list of priorities. We place great importance in involving them in any decision-making, after all it is their satisfaction that we ultimately seek. Whilst technical dialogue may be necessary at certain stages, we will always outline proposals on a non-technical platform, so that there is clear communication.

Once our customer always our customer that is not a flippant line, just a statement of fact that upon completion we do not relinquish our commitment; this is a lifetime support package. Indeed, with our designs comes one year's free domain registration and website hosting, meaning even those on a tight budget can benefit from our excellent resource.
Creative Web Services

natel is one of the leading Web Development and Web Design Company in Chennai India.
Application Development

Our team has excellent capabilities in LAMP (PHP / MYSQL) and ASP.NET / SQL
Web Hosting Services

Natel company has been growing at a tremendous pace with clear focus on its customer

Website Design natel is one of the leading full service website design company chennai.

Mobile Development Our mobile developers are experience because we are in mobile application

Search Engine Optimization natel - SEO Company in Chennai is one of the most effective ways .

Web Hosting natel has been growing at a tremendous pace with clear focus.