Email Hosting
Simple, Smart Affordable Email Hosting Solutions.
Creating a custom end-to-end email solution for your business isn't one size fits all. No matter the size of your organization, you'll get the advantage of leveraging a multi-million dollar infrastructure and a variety of services to build a solution at a cost that is predictable and affordable.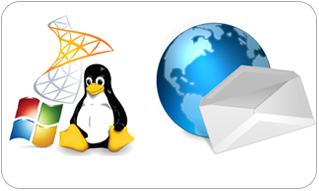 Email Hosting Platform has been making it extremely robust and intuitive to use.
Key features of Siva Shree Info Systems Web Design Company - email hosting solution include :


1. Integrate with Outlook (or your favorite email client) using IMAP or POP3.

2. A beautiful Webmail client that acts just like a desktop email client.

4. Mobile sync support, so that you can take your contacts, calendars, tasks and notes with you as you travel.

5. Easy administration for all of your employees – easily add / remove mailboxes.

6. Huge storage – 10GBs (upgradable to 25gb) per mailbox.

7. Friendly support by phone, email or live chat provided by our in-house team.

8. Free migration – we'll help you get all of your data on to our system with no downtime..

Creative Web Services

natel is one of the leading Web Development and Web Design Company in Chennai India.
Application Development

Our team has excellent capabilities in LAMP (PHP / MYSQL) and ASP.NET / SQL
Web Hosting Services

Natel company has been growing at a tremendous pace with clear focus on its customer

Website Design natel is one of the leading full service website design company chennai.

Mobile Development Our mobile developers are experience because we are in mobile application

Search Engine Optimization natel - SEO Company in Chennai is one of the most effective ways .

Web Hosting natel has been growing at a tremendous pace with clear focus.